Johnny Goodnight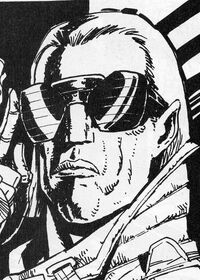 Real name
Johnny Goodnight
Characteristics
Status
Origin
History
Johnny Goodnight was a professional hit-man, a contract killer who never let anything get personal... until he felt a searing pain in his gut and was diagnosed with Pyrocyllus, an alien toxin which spread through its victims like a virus, effectively burning them alive from within, and for which there was no known cure. The doctor Johnny saw could tell him only three things: that his condition was terminal, that he would die in agony but the timescale could not be determined, and that someone must have deliberately infected him, via a prick or abrasion to the skin. Johnny Goodnight was left with one mission of paramount importance to complete: to find his own killer, before he died.

Powers and abilities
Abilities
Killing people.
Weaknesses
Terminally ill.

Paraphernalia
Weapons
Proficient with a variety of firearms.

Notes
The Burning Man, like Canned Heat and Tracer from the 1993 2000AD Winter Special, was intended as the pilot for a new series in a proposed 2000 AD spin-off publication, Earthside 8. When the project was cancelled, no further episodes were produced, so Johnny Goodnight's fate remains unknown.
Links
Discover and Discuss
Ad blocker interference detected!
Wikia is a free-to-use site that makes money from advertising. We have a modified experience for viewers using ad blockers

Wikia is not accessible if you've made further modifications. Remove the custom ad blocker rule(s) and the page will load as expected.