Cat Girl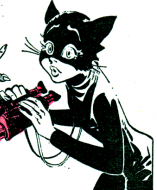 Relatives
Mr Carter (father)
Characteristics
Status
Origin
History
Cathy Carter's father was a private detective who was given a curious gift by a grateful African witch doctor: a cat costume which, when Cathy discovered it and donned it, proved to have magical powers. It enabled Cathy to become the crimefighting Cat Girl, aiding her not always very competent father, usually without his knowledge, and combatting villains such as The Eagle, a master criminal. Cathy's incredible adventures took her all over the world.

Powers and abilities
Powers
Enhanced eyesight
Abilities
Enhanced speed and agility

Notes
Cathy debuted in Sally but later transferred to Tammy after Sally was cancelled.
Links
Discover and Discuss
Ad blocker interference detected!
Wikia is a free-to-use site that makes money from advertising. We have a modified experience for viewers using ad blockers

Wikia is not accessible if you've made further modifications. Remove the custom ad blocker rule(s) and the page will load as expected.