The Coloured Comic, Britain's first weekly colour comic, was published by Trapps & Holmes (rivals of Alfred Harmsworth and his comics empire, which included Comic Cuts and the Funny Wonder) from 21st May 1898. Featuring characters including footpads Frog-Faced Ferdinand and Watty Wool Whiskers, it cost one halfpenny and lasted just 72 weeks in its full colour incarnation before economic considerations caused it to revert to a more modest blue and white. Trapps & Holmes used blue ink so that they could keep the same title — hey, it was still 'coloured', right?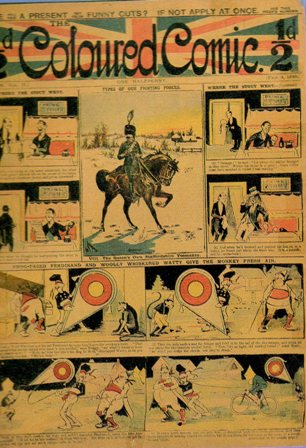 Ad blocker interference detected!
Wikia is a free-to-use site that makes money from advertising. We have a modified experience for viewers using ad blockers

Wikia is not accessible if you've made further modifications. Remove the custom ad blocker rule(s) and the page will load as expected.