Spider-Hound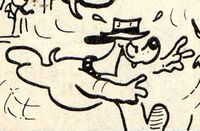 Current alias
Spider-Hound
Characteristics
Status
Origin
History
Dingle was a talking dog in a hat who accidentally gained super powers, though he did very little with them. He lived with a bloke called Edwin, and was a member of the The Fantastic 400.

Powers and abilities
Strength level
Male dog who gets regular walks.

Paraphernalia
Equipment
He has a hat.
Links
Discover and Discuss
Ad blocker interference detected!
Wikia is a free-to-use site that makes money from advertising. We have a modified experience for viewers using ad blockers

Wikia is not accessible if you've made further modifications. Remove the custom ad blocker rule(s) and the page will load as expected.