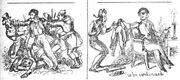 The first edition of
The Glasgow Looking Glass
, an 'illustrated newspaper', was published around 11th June 1825, though its first comic strip (
History of a Coat
) did not appear until the fourth issue (the title was published fortnightly by one John Watson).
The Glasgow Looking Glass
is therefore yet another strong contender for the title of the world's first regularly published comic magazine. With issue #6, the title was changed to
The Northern Looking Glass
, as it expanded its range to cover items of interest from outside Glasgow. Its principal strip illustrator, from issue #10, was
William Heath
, whose first strip contribution was
Life of a Soldier
. The title ended with issue #17 in April 1926, though Heath subsequently revived it (with no reference to the previous publication and no involvement from John Watson) as
The Looking Glass
on 1st January 1830.
Ad blocker interference detected!
Wikia is a free-to-use site that makes money from advertising. We have a modified experience for viewers using ad blockers

Wikia is not accessible if you've made further modifications. Remove the custom ad blocker rule(s) and the page will load as expected.