Alan Horne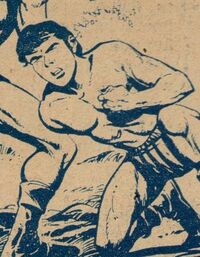 Base of operations
Great Tor
Characteristics
Status
Origin
Origin
Normal human birth
History
Alan Horne was a fifteen year old who lived with and worked for his no-good layabout uncle in the village of Stringers in Devon. When a motorist smashed up Alan's barrow, and then got out and smashed up Alan, the unlucky lad found himself entering a wrestling contest to win a fiver to pay for the damage. Unfortunately, his opponent proved to be his former assailant, the vicious Red Morgan, who gave Alan another hiding. To add insult to injury, his uncle chucked him out for smashing up the barrow.
A disillusioned and battered Alan was taken in by Matt Trevithick, a former wrestler himself who had sustained a permanent back injury courtesy of Alf Spicer, one of a crooked wrestling syndicate. Matt was now looking for a likely victim lad to train up in order to "smash the syndicate."
Just to make things more interesting, mad Matt lived in a cave at the top of Great Tor, ate only vegetable soup and herb tea, and began his tutorship by ordering Alan to literally make his own bed even though the lad had a broken wrist. On the whole, one suspects Alan might have been better off at the YMCA. Justice was served in the end, of course: Alan beat Morgan in the ring, breaking the syndicate's hold on the area, before going to live with Matt in his real home, a cottage from which he ran a market gardening business. He even got to keep his wild moorland pony. Aah!

Powers and abilities
Abilities
Half decent wrestler.
Strength level
Human male who gets regular exercise.
Links
Discover and Discuss
Ad blocker interference detected!
Wikia is a free-to-use site that makes money from advertising. We have a modified experience for viewers using ad blockers

Wikia is not accessible if you've made further modifications. Remove the custom ad blocker rule(s) and the page will load as expected.