Inspectre Viktor Zadek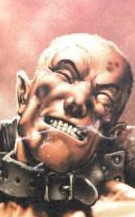 Current alias
Inspectre Viktor Zadek
Characteristics
Status
Origin
History
Viktor Zadek is a former East-Meg One Judge who was sent to Gulag 101 in the Siberian wastes after attempting to depose the despotic Marshall Kazan. He endured a horrific existence there until, following the Apocalypse War, he was rescued by Judges from East-Meg Two who had a use for his psychic abilities. The facility's director, Eva Primakova, tried to execute all the inmates before they could be liberated, but Zadek survived, killing her and destroying the Gulag. He was subsequently reinstated as a Psi-Korp Judge.

Powers and abilities
Powers
Zadek is a powerful psychic.
Abilities
Able to communicate with the spirits of the deceased.
Links
Discover and Discuss
Ad blocker interference detected!
Wikia is a free-to-use site that makes money from advertising. We have a modified experience for viewers using ad blockers

Wikia is not accessible if you've made further modifications. Remove the custom ad blocker rule(s) and the page will load as expected.