The Star Creature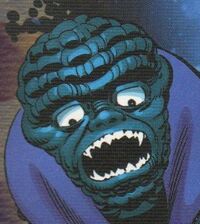 Current alias
The Star Creature
Aliases
The Lurker from Loch Ness; the Monster from the Murk
Base of operations
Loch Ness
Characteristics
Status
Origin
Place of birth
Alien planet
History
The Lurker from Loch Ness (also known as the Star Creature and the Monster from the Murk) was an unnamed alien from a planet in desperate need of solar radiation of a type specific to our sun. His race intended to drain the sun of energy, a project which would take centuries but which would ultimately doom Earth. The rapid technological development of humanity was a potential threat to this, so the Lurker (who had concealed himself in Loch Ness and disguised his starship as the legendary monster) plotted to build satellites which would drain away all humanity's electrical power. He and his human servant, the innkeeper McNab, were defeated by Captain Britain (with a little assistance from Jacko Tanner) and both were killed after the ship exploded. The real Loch Ness Monster survived, however.

Powers and abilities
Powers
Telepathy.
Weaknesses
His robots automatically fire their guns if they receive any damage; his spacecraft explodes if the control panel is damaged sufficiently.

Paraphernalia
Equipment
Robots armed with 'sun-guns'; electrified force field.
Transportation
Starship disguised as a sea monster.
Links
Discover and Discuss
Ad blocker interference detected!
Wikia is a free-to-use site that makes money from advertising. We have a modified experience for viewers using ad blockers

Wikia is not accessible if you've made further modifications. Remove the custom ad blocker rule(s) and the page will load as expected.