The Mutant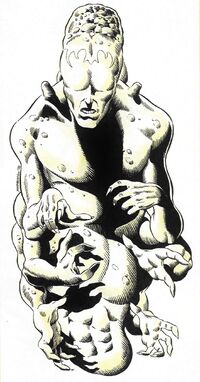 Affiliation
Enemy of Justice Department
Relatives
Owen Krysler (clone, deceased)
Characteristics
Status
Occupation
Would-be conqueror
Origin
History
The Mutant is a character from the 2000 AD strip Judge Dredd. He was a clone, grown on the planet Xanadu by the robot Grunwalder from the cells of the deceased psychic Owen Krysler, the Judge Child.
After growing to maturity (which took ten years), in 2120 the monstrous clone travelled to Earth and Mega-City One and began to take revenge on the Judges for the death of the Judge Child. First he killed Judge Joseph Dredd and turned him into a zombie. Then he conquered the city, turning it into a hellish landscape teeming with vampire Judges, reptilian monsters and the unquiet dead. This was the horror which had been predicted in 2112 by the clairvoyant Judge Feyy from Psi-Division, and his prediction had caused the Judges to seek out Krysler in the first place. (Self-fulfilling prophecies are one of the drawbacks of having a department full of psychics.)
An earlier, un-zombified version of Dredd, accompanied by Judge Anderson, arrived in 2120 AD from 2107 in the time capsule Proteus and discovered the nightmare. Unable to defeat the mutant, Dredd travelled back to his own time and instead aborted the entire timeline by ordering the execution of both the Grunwalder and his still immature mutant clone. The Mutant's entire adult existence was effectively erased from history. However, Dredd's eyes, which had been destroyed by the Mutant's monsters, were still missing. To this day he uses bionic ones instead, which serve as a permanent reminder of one of his more traumatic adventures, and of the consequences of unchecked psychic power.

Powers and abilities
Powers
Uncatalogued but extensive mental powers.
Strength level
Superhuman.
Weaknesses
Vulnerable when immature.

Paraphernalia
Weapons
His mind.
Links
Discover and Discuss
Ad blocker interference detected!
Wikia is a free-to-use site that makes money from advertising. We have a modified experience for viewers using ad blockers

Wikia is not accessible if you've made further modifications. Remove the custom ad blocker rule(s) and the page will load as expected.