The Octopus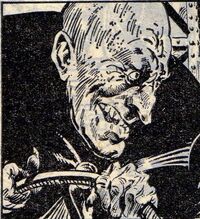 Current alias
The Octopus
Base of operations
Mobile
Characteristics
Status
Occupation
Criminal Mastermind for hire
History
The Octopus was a wizened, wiry European criminal mastermind with a penchant for black bodysuits and a tendency to lapse into partial french, whose goal was to create a transcontinental criminal network. In order to do this, he allowed himself to be hired by Ben Bunsen's cousin Nicholas to kill Bunsen and steal his fortune. He had a number of allies including 'The Marksman' (a huge bearded man in a Deerstalker), 'The Conjurer' (a master of disguise) and 'The Inventor' (a fat, lazy man who created mechanical deathtraps). The Octopus was apparently financially wiped out by his ill-fated attempts to complete his mission, and ended up lamenting that perhaps honesty was the best policy after all.

Notes
The Octopus appeared in the humorous adventure strip Bunsen's Burner.
Links
Discover and Discuss
Ad blocker interference detected!
Wikia is a free-to-use site that makes money from advertising. We have a modified experience for viewers using ad blockers

Wikia is not accessible if you've made further modifications. Remove the custom ad blocker rule(s) and the page will load as expected.