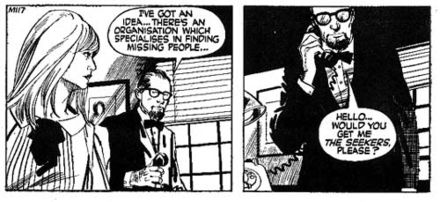 The Seekers
, which began in the
Daily Sketch
on 2nd May 1966, was a newspaper strip drawn by
John M. Burns
and written originally by
Les Lilley
and later by
Phillip Douglas
and
Dick O'Neil
. It concerned the adventures of Susanne Dove and Jacob Benedick, two secret agents employed by Una Frost, director of The Seekers, an elite agency set up to retrieve missing persons, often victims of the sex industry. It ran until 10th May 1971.
Ad blocker interference detected!
Wikia is a free-to-use site that makes money from advertising. We have a modified experience for viewers using ad blockers

Wikia is not accessible if you've made further modifications. Remove the custom ad blocker rule(s) and the page will load as expected.