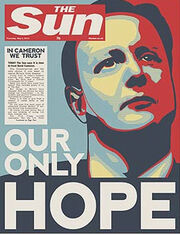 Newspapers often carry comic strips, and The Sun, Britain's best-selling newspaper, is no exception. Currently it runs Striker. In the past, it also printed Hagar the Horrible, The Gems, Romero's Axa, the long running domestic comedy George and Lynne, Livvy, Millie, Badlands, Scarth, Psycops, Amanda, Wallace and Gromit, Shadows: The Awakening, and The Premier. In the very late 60s to early 70s, it also gave us Bear by Posy Simmonds and Wack by Hugh Morren.



Ad blocker interference detected!
Wikia is a free-to-use site that makes money from advertising. We have a modified experience for viewers using ad blockers

Wikia is not accessible if you've made further modifications. Remove the custom ad blocker rule(s) and the page will load as expected.