The Tough Guys of Paris was an English translation of a strip by Franco-Belgian comics creating team Andre Paul Duchateau (writer) and 'Tibet' (Gilbert Gascard, artist). It ran briefly in Marvel UK's Spidey Comic in 1985, the final story running from #654 (21st September) to #661 (9th November). The story centred around trouble prone tough guy reporter Rick O'Shea of the newspaper La Rafale, who finds himself dealing with a terrorist plot concocted by the so-called 'Black Group' and its enigmatic leader, Raphael. Ultimately, Rick exposes Raphael as a hoax concocted by the Black Group, who have carried out the various murders (and numerous attempts on O'Shea's life) attributed to Raphael by having highly placed agents close to the victims in positions of trust. The strip was a strange fit for the comic, which was by that staged primarily aimed firmly at the younger end of the market.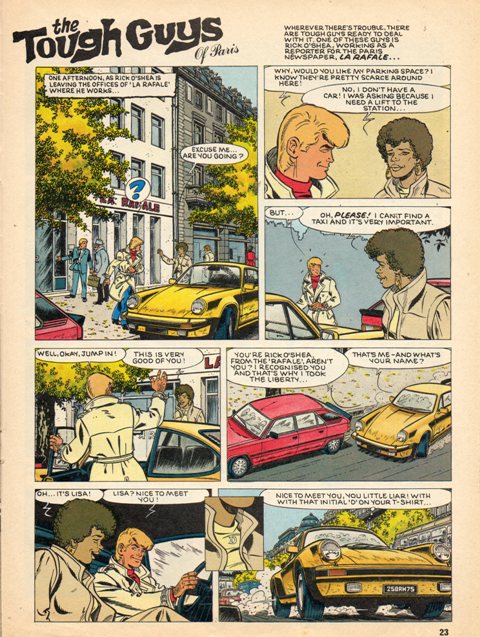 Ad blocker interference detected!
Wikia is a free-to-use site that makes money from advertising. We have a modified experience for viewers using ad blockers

Wikia is not accessible if you've made further modifications. Remove the custom ad blocker rule(s) and the page will load as expected.