The Tower King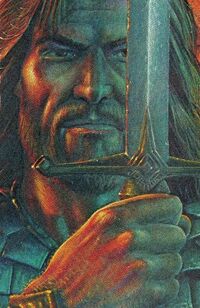 Current alias
The Tower King
Base of operations
London
Characteristics
Status
Origin
History
In a Britain of the near future, a faulty satellite discharges an electromagnetic pulse which disables all electrical equipment on Earth — and keeps on generating it! With the world reduced to a state of medieval feudalism, Mick Tempest gathers many of the survivors together under the protection of his fortress, the Tower of London, and battles against numerous dangers including marauders in steam trains, mutants in the London Underground, lunatics who have turned surgery into a religion and wreckers who try to hose him down with sulphuric acid. A stray meteor finally knocks out the rogue satellite and returns light and power to the world.

Paraphernalia
Equipment
Nothing that needs plugging in.
Links
Discover and Discuss
Ad blocker interference detected!
Wikia is a free-to-use site that makes money from advertising. We have a modified experience for viewers using ad blockers

Wikia is not accessible if you've made further modifications. Remove the custom ad blocker rule(s) and the page will load as expected.