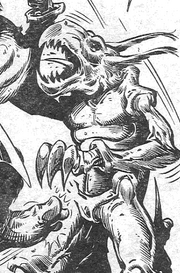 "Battak raised one gleaming claw. 'Shall I...
discipline
him, sire?' he leered."
2000 AD
annual, 1982.
---
Battak: "By the hive of my ancestors, human — for this I carve you apart slowly, piece by fleshy piece!"
---
Narrator: "In the hive where you matured, they called you Battak the Merciless... In the stadium where you fought, they called you Battak the Killer... Your cruel death-dive sent audiences wild! Your death-dive failed you once — the only time you have ever been beaten in combat! You have sworn a vow on your own green blood that the death-dive will never fail you again!"
Battak: "SCREAM, SCUM — WHILE STILL YOU CAN!"
Ad blocker interference detected!
Wikia is a free-to-use site that makes money from advertising. We have a modified experience for viewers using ad blockers

Wikia is not accessible if you've made further modifications. Remove the custom ad blocker rule(s) and the page will load as expected.