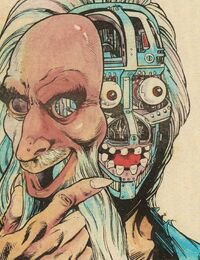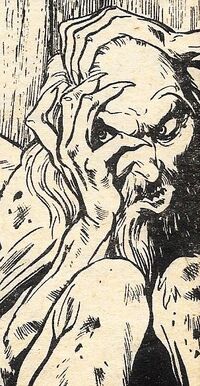 Harry Twenty
: "
Ninety?
You're doin'
ninety
years?"
Ben Ninety: "You said it, boy, hee hee! Old Ben was the first con in — who knows, maybe he'll be the last con out! Hee hee hee! You want to know anything, you ask old Ben. Old Ben knows the rock inside out, hee hee! Knows all the slugs, knows all there is to know!" 2000 AD prog 288.
---
Narrator: "Long years of confinement have driven Old Ben half-mad — but they have also given him a computer-like knowledge of the rock and its inhabitants." 2000 AD prog 289.
---
Ben Ninety: "Only one way off the Rock, hee, hee! Death! Hee, hee, hee!" 2000 AD prog 290.
---
Ben Ninety: "Don't want your soya-slush, sonny? Old Ben'll have it! It ain't good, but it's all we'll get, hee hee!" 2000 AD prog 291.
---
Ben Ninety: "Never mind, Genghis, hee hee! Soon we'll be eating Earth-side, eating real food! Hee hee!" 2000 AD prog 297.
---
Harry: "Old Ben should be in position now!"
Genghis Eighteen: "Just hope he do right thing — Ben crazy enough do anything!" 2000 AD prog 298.
---
Ben Ninety: "Hey, sluggy — leave Harry boy alone!" *bites guard* 2000 AD prog 299.
---
Ben Ninety: "Take a look, Harry Twenty, and see why your plan was doomed from the start..."
Harry: "HOLY WEASEL! OLD BEN'S AN — ANDROID!" 2000 AD prog 301.
Ad blocker interference detected!
Wikia is a free-to-use site that makes money from advertising. We have a modified experience for viewers using ad blockers

Wikia is not accessible if you've made further modifications. Remove the custom ad blocker rule(s) and the page will load as expected.