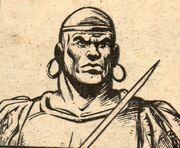 Alan Grant
: "I was really thrown in at the deep end on that one. As you know,
Black-Hawk
came to
2000 AD
from
Tornado
and he had to be made to fit the
2000 AD
style of story. Before this he was a black Roman centurion wandering around the Roman Empire with his legion of outcasts... I knew that Conan the Barbarian was a very popular character and I wanted to have something like that in
2000 AD
, so the obvious thing to do was turn Black-Hawk into some kind of 'barbarian of the spaceways'."
2000 AD
annual, 1982.
Ad blocker interference detected!
Wikia is a free-to-use site that makes money from advertising. We have a modified experience for viewers using ad blockers

Wikia is not accessible if you've made further modifications. Remove the custom ad blocker rule(s) and the page will load as expected.