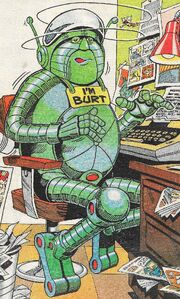 Burt
: "No pay — no work! What do you say to that?"
Tharg: "Just one thing — YOU'RE FIRED!" 2000 AD prog 181.
---
Dictator of Zrag: "These Future Shocks are far too shocking, script robot Moore! I want thrill-power reduced by one hundred per cent!"
Alan Moore: "Right. Suppose I'd better get Burt to help!" 2000 AD prog 284.
---
Burt: "Here, um... mousey! Here, boy! Come and see the, er... pretty trap! Clever, um... mousey! Come to, um... Burt!" 2000 AD prog 304.
Ad blocker interference detected!
Wikia is a free-to-use site that makes money from advertising. We have a modified experience for viewers using ad blockers

Wikia is not accessible if you've made further modifications. Remove the custom ad blocker rule(s) and the page will load as expected.