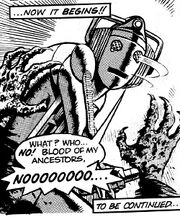 Cyberman
: "What? Who...
No!
Blood of my ancestors,
NOOOOOOOO....
"
Black Legacy
.
---
Cyberleader: "This planet has been claimed by the Cybermen! You will explain your presence here... before you are executed!" Deathworld.
---
Alice Obiefune: "Is that a giant Cyberman?"
The Doctor: "Mmmm... probably. Don't worry, it won't come back to life and attack us. They almost never do that." Tales from the TARDIS #7.
Ad blocker interference detected!
Wikia is a free-to-use site that makes money from advertising. We have a modified experience for viewers using ad blockers

Wikia is not accessible if you've made further modifications. Remove the custom ad blocker rule(s) and the page will load as expected.