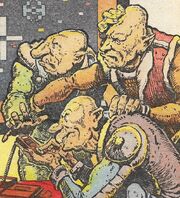 Burt
: "You horrible horrors!"
2000 AD prog 223
.
---
First Dictator: "At last — Tharg is ours! We can cube him up forever!"
Third Dictator: "No! The evil of thrill-power is too insidious, too potent. We must eliminate it for good!"
First Dictator: "The crime is thrill-power!"
Second Dictator: "The sentence is..."
Third Dictator: "Death!" 2000 AD prog 386.
Ad blocker interference detected!
Wikia is a free-to-use site that makes money from advertising. We have a modified experience for viewers using ad blockers

Wikia is not accessible if you've made further modifications. Remove the custom ad blocker rule(s) and the page will load as expected.