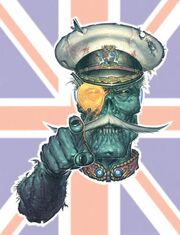 Harry Kipling
: "
Pax Britannica
, y'see? An age of
enforced peace
and chuffing
enlightenment
! And
blast
any cad that stood in the way! Great times, gel! Oho yes!
Great times
! Right up 'til the bally boffins went and
spoilt
it all!"
2000 AD
prog 1482.
Ad blocker interference detected!
Wikia is a free-to-use site that makes money from advertising. We have a modified experience for viewers using ad blockers

Wikia is not accessible if you've made further modifications. Remove the custom ad blocker rule(s) and the page will load as expected.