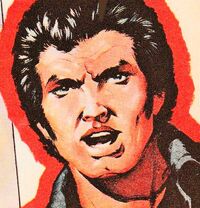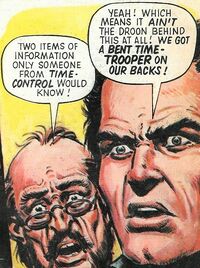 James Blocker
: "
Chew knuckles, sunshine!
"
Starlord #1
.
---
James Blocker: "You know what we've just done, don't you?! We've just started the Great Fire of London!"
Harl Vinda: "Forget it, Blocker! That is part of the strange nature of time!" Starlord #2.
---
Harl Vinda: "You'll have to join us, Blocker... in Time-Control! Either that, or you crumble to dust within six months! You'll get used to it! It's an interesting life..." Starlord #3.
---
Dr Zeidler: "Keep your lower class nose out of things that don't concern you!"
James Blocker: "That's nice! The bloke insults me — and we ain't even been introduced! If you're not careful, sunshine, I'll lay one on you!" Starlord #4.
---
Nazi: "Hell! It's cold in here!"
James Blocker: "Then here's something to warm you up, sunshine — wooden overcoats!" Starlord #5.
---
James Blocker: "Keep your hair on, mush — I'm thinkin'!" Starlord #8.
---
Aztecs: "See... he comes from the temple of our ancestors! Seize the strange one!"
James Blocker: "You don't want me — tramp steamers weren't invented until— uuh!" *gets hit on head* Starlord #10.
---
James Blocker: "I'd see a dentist if I were you, blossom! Oh, sorry — they ain't been invented yet, 'ave they? This'll take your mind off the jaw-ache!" Starlord #11.
---
James Blocker: "Marriage..! But I come from a long line of bachelors!" Starlord #12.
---
Quexalcholmec (an Aztec): "The price I paid for discovery was to condemn my own people... my whole civilisation... to total destruction!"
James Blocker: "Know how you feel,1 Quex, but it was for the good of mankind!"2 Starlord #13.

1No, he doesn't.
2Not necessarily. Why is 'Aztecs with spaceships' worse than 'white people with spaceships'?
Ad blocker interference detected!
Wikia is a free-to-use site that makes money from advertising. We have a modified experience for viewers using ad blockers

Wikia is not accessible if you've made further modifications. Remove the custom ad blocker rule(s) and the page will load as expected.