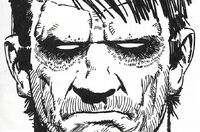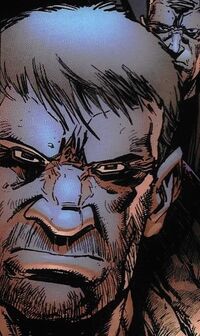 Jupe
: "Ain't no such thing as wounded in this war, kid. You're hit, you're dead — all quick and clean!"
2000 AD
prog 140.
---
Jupe: "Here they come, VCs — CLEAN 'EM!" 2000 AD prog 148.
---
Jupe: "Jupiter's bigger than all your planets, but that ain't the point. We're vacuum cleaners first and that means we think of the whole system, not our own little worlds!" 2000 AD prog 153.
---
Steve Smith's dad: "Hey, a real live Jovian, eh! Ugly lookin' fish, ain't he!" 2000 AD prog 154.
---
Jupe: "SUCK IT IN, YOU YELLOW SHAVEHEAD! I DIDN'T DROP SIXTY MILES TO GET MY BUTT SHOT OFF!" 2000 AD prog 159.
---
Steve Smith: "It's up to you, Jupe, you're used to moving in the dark."
Jupe: "Yeah. A V.C. ain't ever useless." 2000 AD prog 173.
---
Jupe: "Reckon us V.C.s aren't needed here now... just like I wasn't needed on that last trip, 'cause of these blind eyes of mine."
Smith: "Suck it in, Jupe. Without you I'd never have survived this war." 2000 AD prog 175.
---
Captain: "If all you veterans could remain calm, w—
Jupe: "'Us veterans' came through the Geek war, son. We do 'calm' pretty good." 2000 AD prog 1301.
---
Smith: "Two words. Right, Jupe?"
Jupe: "Right... first one's 'blitz', second one's 'cannon'." 2000 AD prog 1302.
---
Keege: "Sergeant Jupe? What — uh — what will our plan of action be when we reach the Geek base?"
Jupe: "The regular one, trooper. We vape 'em till they're all dead." 2000 AD prog 1375.
---
Bill Veto: "Jupe made it too? Ol' dog. His bones're made o' luck." 2000 AD prog 1376.
---
Jupe: "I was hit, I was dead... but you came back for me. It's all about balance. Fate needs a soul, Smith. Mine for yours." 2000 AD prog 1378.
---
Jupe (last words): "Okay, Geeks. One last fricking time. Make it clean!" Ibid.
Ad blocker interference detected!
Wikia is a free-to-use site that makes money from advertising. We have a modified experience for viewers using ad blockers

Wikia is not accessible if you've made further modifications. Remove the custom ad blocker rule(s) and the page will load as expected.