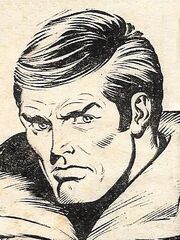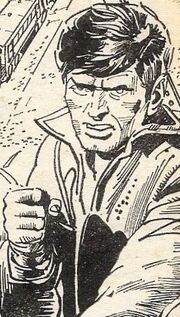 Pat Mills
: "There should always have been the lone fantasy Bond-style hero in modern day action in a comic like
2000 AD
. It would still work
today
. The reason there wasn't is very simple: they're difficult to write well and most writers are too bloody lazy; and artists prefer to draw weird stuff, often because they can't draw reality, like a London bus or ordinary people walking down the road."
Thrill-Power Overload
by
David Bishop
.
---
Pat Mills: "M.A.C.H. 1 was the rock 2000 AD was built on in the vital first months — not Dredd. That's unpalatable, even to me, but very true and very important. M.A.C.H. 1 probably would have been as popular as Dredd for longer if I carried on writing it, but it was too exhausting. Weak scripts started to pull him down." Ibid.
---
Kevin O'Neill: "Stories like M.A.C.H. 1 were extremely violent, guys having their heads kicked off, limbs flying about — we had to censor almost every page." 10 Years of 2000 AD (documentary).
---
Earthlet Marcus Handford: "The anniversary prog really did it for me — reading those classic strips brought a flood of euphoria not felt since M.A.C.H. 1 died." Letter in 2000 AD prog 2023.
---
John Probe: "I'm gonna get you! 'Cos you got me angry in my skull!" 2000 AD prog 5.
---
Colonel Kreuzer: "How can one man have so much power?"
John Probe: "I always eat my sunshine breakfast!" 2000 AD prog 6.
---
John Probe: "Another mission's over — and once again, I'm the only survivor!" 2000 AD prog 17.
---
Computer: "Subject is Howes' niece, Miranda — unarmed — single blow to windpipe will eliminate —"
John Probe: "Quiet, computer, I don't clobber ladies!" 2000 AD prog 21.
---
Narrator: "Tribesmen who had gathered to watch Probe's death were overawed by his triumph!"
First tribesman: "Like a contest of old!"
Second tribesman: "He has the power of a bull!" 2000 AD prog 22.
---
John Probe: "You ain't going nowhere, crazy man. Only to hell after I kill you!" 2000 AD prog 24.
---
John Probe: "I was the star back then. The kids couldn't get enough of me -- smashing through walls, running at terrific speeds, leaping over fences, smashing through walls again..." 2000 AD 40th Anniversary Special.
Ad blocker interference detected!
Wikia is a free-to-use site that makes money from advertising. We have a modified experience for viewers using ad blockers

Wikia is not accessible if you've made further modifications. Remove the custom ad blocker rule(s) and the page will load as expected.