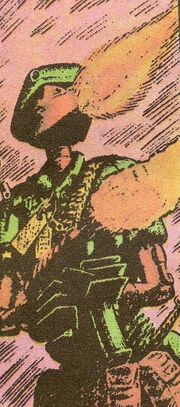 Mad Ronn
: "See here, Sarge... we're a
peace-keeping force 
— making the galaxy safe for
democracy! 
If some
gooks
get in the way, we jest
gotta
blast the heck outa them!"
Hammerstein: "That was about ten years ago, Ronn." 2000 AD prog 392.
---
Hammerstein: "He always was a crazy devil." 2000 AD prog 443.
Ad blocker interference detected!
Wikia is a free-to-use site that makes money from advertising. We have a modified experience for viewers using ad blockers

Wikia is not accessible if you've made further modifications. Remove the custom ad blocker rule(s) and the page will load as expected.