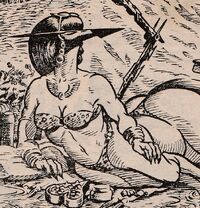 Magna
: "What's Chira got that I haven't? I'm at least a hundred years younger than she is. And I'm sure her mane isn't naturally that colour."
2000 AD prog 336
.
---
Magna: "It's that awful castle of father's — it's so dusty. I nearly choked to death."
Chira: "What stopped you?" 2000 AD prog 337.
---
Narrator: "As for Magna, who wanted Nemesis, and had betrayed Thoth's mother to the Terminators... she was waiting for time to ease the warlock's pain before she made her move..." 2000 AD prog 406.
---
Nemesis: "Murderess!"
Magna: "Chira was old. She was no good for you. I did it for our future together, Nemesis!"
Nemesis: "You have no future!" 2000 AD prog 436.
Ad blocker interference detected!
Wikia is a free-to-use site that makes money from advertising. We have a modified experience for viewers using ad blockers

Wikia is not accessible if you've made further modifications. Remove the custom ad blocker rule(s) and the page will load as expected.