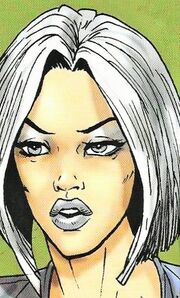 Disgruntled reporter 1: "
Precious
gets her man again."
Disgruntled reporter 2: "With a chest like that we ain't got a look-in, Charlie." 2000 AD prog 1620.
---
Precious: "In my experience, Middenface, the carrot usually works better than the stick." The Life and Death of Johnny Alpha Chapter One.
---
Middenface McNulty: "So aw my traipsin' roond the galaxy came tae nothin'... an' you found him just by puttin' a wee whisper oan the wire. I can see I'm gauny huv tae update my methods." Ibid.
Ad blocker interference detected!
Wikia is a free-to-use site that makes money from advertising. We have a modified experience for viewers using ad blockers

Wikia is not accessible if you've made further modifications. Remove the custom ad blocker rule(s) and the page will load as expected.