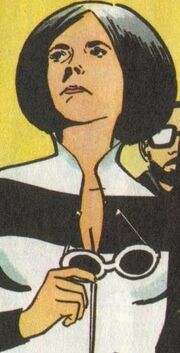 Ruby Fox
: "They wanted us to
be
like
him
— patriotic super-warriors, fighting for queen and country. Instead, we
rebelled
. We thought we'd
beaten
them... all the generals and the politicians... I can see it from a different perspective now. In the end, they got us all, even the
best
of us."
2000 AD
prog 540.
---
Peter St John: "The trouble with you, Ruby, is that you've spent two decades looking over your shoulder, wishing you could be beautiful again." Ibid.
Ad blocker interference detected!
Wikia is a free-to-use site that makes money from advertising. We have a modified experience for viewers using ad blockers

Wikia is not accessible if you've made further modifications. Remove the custom ad blocker rule(s) and the page will load as expected.