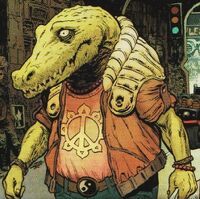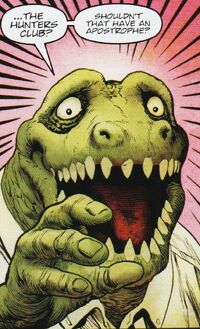 Dirty Frank
(escaping): "Farewell, Sensitive Klegg! You are a poetic, transcendent prince amongst a right old load of meat-munchers! Dirty Frank moral: never judge a book by its—
it's a dead end, you stupid, fey, upright man crocodile!
"
2000 AD
prog 1808.
---
Sensitive Klegg: "I think the blast may have damaged my ears! I may have used too many explosives!"
Judge Dredd: "Yeah... maybe you did."
Sensitive Klegg: "No, that's an interesting thought but my mother never wanted to work in retail!" 2000 AD prog 1844.
---
Sensitive Klegg (speed-dating): "I am looking for friendship. My favourite colour is turquoise and my favourite food is the pulsing heart of a Lultfeshon-3 moon slug. You?" 2000 AD prog 1888.
---
Sensitive Klegg (narrating): "It is a strange, sad thing to feel like you don't belong... in the place you live, in the skin you were born into... I am destitute mortality, the ice-cold inertia of a life without meaning. And my line manager says I have great big smelly sausage finger—" *dodges falling piano* Ibid.
---
Sensitive Klegg: "Think, Klegg, think. What would your heroine Emily Bronte do in a vexing situation such as this?" 2000 AD prog 1889.
---
Sensitive Klegg: "To quote the words of Dr Martin Luther King Jr... I refuse to accept the view that mankind is so tragically bound to the starless midnight of racism and war that the bright daybreak of peace and brotherhood can never become a reality. And now I'm going to bite your arm off!" Ibid.
---
Sensitive Klegg: "A peace treaty is to be signed, and what could be more beautiful than peace?" 2000 AD prog 1970.
---
Terrorist: "The imperialist Mega-City Klegg conspiracy intends to gorge upon our beloved nation. We will shoot them with missiles in the name of peace."
Sensitive Klegg: "HELLO, NEW FRIENDS!" 2000 AD prog 1971.
---
Sensitive Klegg: "Hails of bullets solve naught except further burgeoning hatred's bile!"
Dredd (holding broken leg): "We >NNNNN!< beg to differ on that." 2000 AD prog 1972.
Ad blocker interference detected!
Wikia is a free-to-use site that makes money from advertising. We have a modified experience for viewers using ad blockers

Wikia is not accessible if you've made further modifications. Remove the custom ad blocker rule(s) and the page will load as expected.