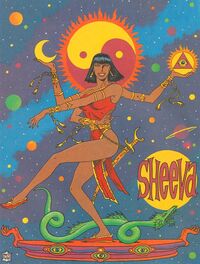 Sheeva
: "Nothing is lost,
Mac
. And everything is lost. Life is a cycle of creation and destruction, but all this is a veil of Satan. Your essence, your
form
hasn't changed. For is
energy
. All this, our bodies, this planet, your
arm
. It's just
matter
. It is not
real
, Mac. It's just the
cosmic dance
." 
2000 AD
prog 552.
---
Sheeva: "I'd rather stay with you, Danny. I'd rather spend the rest of my life just living with you. Maybe we have done, in other lives. Maybe we spent years together. Wouldn't that be wonderful?" 2000 AD prog 581.
---
Sheeva (last words): "Danny. I love you." 2000 AD prog 582.
Ad blocker interference detected!
Wikia is a free-to-use site that makes money from advertising. We have a modified experience for viewers using ad blockers

Wikia is not accessible if you've made further modifications. Remove the custom ad blocker rule(s) and the page will load as expected.