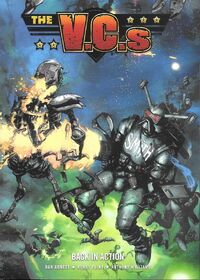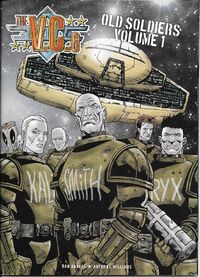 Jupe
: "
The VCs
... it's our own name, sorta private joke. Our job's to patrol the system, right? Keep it secure and clean up the
Geeks
till someone works out a strategy, right? So we call ourselves the VCs...
The vacuum cleaners
."
2000 AD
prog 140.
---
Steve Smith: "You should be more careful, Geeks — vacuum cleaners can seriously damage your health!" 2000 AD prog 172.
---
Smith: "You just switched on the vacuum cleaners!" 2000 AD prog 173.
---
Smith (thinking): "I've got a new crew to form, maybe new wars to fight... but I'm never going to wipe away the memory of those first V.C.s... the vacuum cleaners!" 2000 AD prog 175.
---
Smith: "The modern corps is a place for hot-shot college grads with masters in gravitics and astro-phys. They don't have no place for grunts anymore." 2000 AD prog 1300.
---
Smith: "That was the V.C. way. Them and us. Geeks and mankind. But it's not as simple as that any more. And I'm afraid I'm being blinded by my own prejudices." 2000 AD prog 1305.
---
Jupe: "We're the V.C.s, trooper. We're meant to be outnumbered..." 2000 AD prog 1377.
---
Tommy Hoff (in letter): "The crew I'm hooked up with are known as the V.C.s. That must be a reference to the old Victoria Cross, right? I mean, a historic reference. Tycho told me it stands for vacuum cleaners, because we clean the vacuum. That can't be right, can it?" 2000 AD prog 1486.
---
Tycho: "What now, sir?"
Smith: "We're done here. Not our fight any more. Walk away, V.C.s." 2000 AD prog 1495.
Ad blocker interference detected!
Wikia is a free-to-use site that makes money from advertising. We have a modified experience for viewers using ad blockers

Wikia is not accessible if you've made further modifications. Remove the custom ad blocker rule(s) and the page will load as expected.