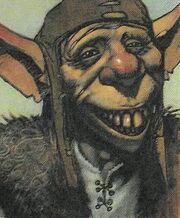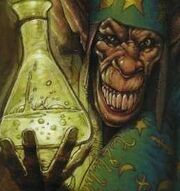 Ukko
: "There's no shame in making money. It's a hard world out there, Sláine — especially if you're a dwarf."
2000 AD prog 336
.
---
Ukko: "Och! Och! Aaah! No! Mercy! Help! Murder!"
Fea the Hateful: "I haven't even touched him!" 2000 AD prog 338.
---
Ukko: "We dwarves are famous for our knowledge of medicine!"
Blind Bran: "So why are you nearly extinct?" 2000 AD prog 343.
---
Ukko to random woman: "Goodbye, Tangwen." 
Tangwen: "Goodbye, Ukko."
Ukko: "Goodbye, Cassir... Midir... Goneril... Gormlaith... Fay..."
Crowd of women: "Goodbye, Ukko!" 2000 AD prog 352.
---
Ukko: "O Lug, great god of the sky, look after little Ukko. Even if the others get it... make sure I'm all right!" 2000 AD prog 354.
---
Sláine: "My dwarf has always benefited from a good belting." 2000 AD prog 363.
---
Ukko: "We dwarves (with our superior brains) can see only too clearly the dangers that lie ahead and spend our lives worrying about getting enough to eat, having a warrior like Sláine to protect us, and being secure in our old age. That's why I'm always looking for treasure — so I've something to retire on." 2000 AD annual 1985.
---
Ukko to drowning woman: "Give me your hand!"
Woman: "Oh, thank you dwarf! Thank you!"
Ukko: "Let's just get your rings off first, dear... ...And we don't want to waste that nice necklace, do we?" 2000 AD prog 414.
---
Myrddin: "Evil is unthinking, Nest. It cannot help itself... just as Ukko cannot help stealing from my bag."
Ukko: "Oh! How did my hand get in there? Bad, bad hand! Don't you dare do that again!" 2000 AD prog 422.
---
Sláine: "I'll sew the little rat's mouth up."
Myrddin: "You can do that later, Sláine. We must hurry."
Sláine: "It wouldn't take long. I'm quite good at it now." 2000 AD prog 433.
---
Ukko: "This tomb... I expect there'd be some treasure in it?"
Myrddin: "All the gold and silver you can carry, Ukko."
Ukko: "I can carry quite a lot." 2000 AD prog 447.
---
Gerg Three Fingers: "Ukko, what do you do with the gold you collect? You can't spend it all."
Ukko: "I hoard it and snuggle up to it on cold winter nights. It's a great comfort to me." 2000 AD prog 519.
Ad blocker interference detected!
Wikia is a free-to-use site that makes money from advertising. We have a modified experience for viewers using ad blockers

Wikia is not accessible if you've made further modifications. Remove the custom ad blocker rule(s) and the page will load as expected.