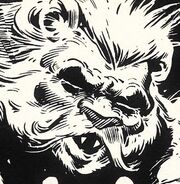 My Axe, he chop with crashing thud! Soon he be spilling plenty blood!
(
Ursa
's battle song)
---
My Axe has chopped with crashing thud! He has been spilling plenty blood! (Ursa's victory song)
---
Alan Grant: "I worked on Blackhawk with Kelvin Gosnell and a lot of the ideas in the series, such as the character of Ursa the bear, came directly from him." 2000 AD annual, 1982.
Ad blocker interference detected!
Wikia is a free-to-use site that makes money from advertising. We have a modified experience for viewers using ad blockers

Wikia is not accessible if you've made further modifications. Remove the custom ad blocker rule(s) and the page will load as expected.