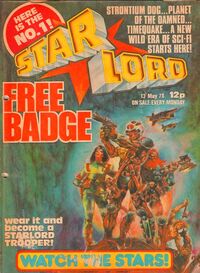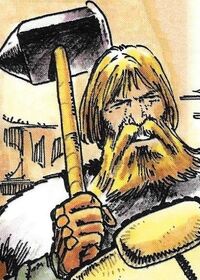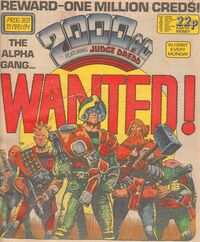 Karl Stock: "The death of Wulf Sternhammer. After the first
Max Bubba
saga had dragged on a little too long, the short, sharp, sadistic brutality of the final episode hit like a punch in the gut ... This was the moment my childhood ended and I realised everyone dies."
2000 AD
prog 2061.
---
Johnny Alpha: "Why d'you stick with me, Wulf? You don't have to be a bounty hunter! You're no mutant!"
Wulf Sternhammer: "Comrades ve are, Johnny! Vere you go, Wulf go!" Starlord #1.
---
Johnny Alpha: "Ready for some hand-to-hand?"
Wulf Sternhammer: "Ja, alvays! My Happy Stick itches for more skulls to crack!" Starlord #4.
---
Wulf Sternhammer: "Alvays villing to say hello to a friendly alien."
Friendly alien: "AAAHHH! DINNNEERR!" Starlord #14.
---
Nigel Webster (Johnny's brother-in-law): "How are you keeping, old chap?"
Wulf Sternhammer: "Vulf is alive, Nigel. Is enough." Starlord #17.
---
Civilian: "W-we heard shooting! What's going on? Oh my grief!"
Wulf Sterhammer: "Vermin extermination. Nothing to vorry about, old cucumber!" 2000 AD prog 335.
---
Wulf Sternhammer (thinking): "Der island of der living dead is der place of pure evil. Only madmen und fools go willingly there. Und Johnny is no fool... he is my friend, und I cannot let him go alone!" 2000 AD prog 338.
---
Wulf Sternhammer: "Ve are bounty-hunters. Ve hunt men for money, ja, but ve only hunt der guilty. Killing for der sake of killing - ve do not do this. Is sick." 2000 AD prog 359.
---
Narrator: "What he sees in Wulf Sternhammer is a vulgar, drunken rogue — but a good man to have on your side in a fight. A man who will not lightly betray a trust." 2000 AD prog 449.
---
Wulf: "Sorry, Johnny Veird-Eyes... See... See you in Valhalla!" 2000 AD prog 465.
---
Wulf: "Ach, Johnny! Alvays you are brooding. Vy can you not forget der past? Live a little — enjoy life!"
Johnny Alpha: "Enjoy? How can I, big feller? It's my fault you're dead!"
Wulf: "Vas not your fault! Vas Max Bubba!"
Johnny Alpha: "You'd never have met Bubba if you hadn't decided to string along with me."
Wulf: "Ja, but if ve had never met, Vulf vould have died over a thousand years ago! You see — ve didn't have it so bad!"
Johnny Alpha: "You're just trying to confuse me with your crazy Viking logic!" 2000 AD prog 472.