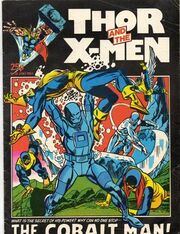 X-Men
was a weekly title launched by
Marvel UK
on 27th April 1983. It began reprinting the
X-Men
's adventures from the beginning, in colour (issue #1 also gave away a free gift, a plastic toy gun, while #2 and #3 gave away free X-Men stickers) but folded after just 17 issues on 23rd May and was merged with the '
Thor
' weekly (which had begun in the same month as X-Men) with issue #20, the title being changed to 'Thor & the X-Men' to reflect this. Thor & X-Men lasted a further 20 issues before being cancelled with #39 and merged with
Spider-Man
. As with a number of the weeklies launched by Marvel around this time, little thought appears to have gone into the content of these two; the X-Men stories being reprinted were 20 years old and totally at odds with the version of the team then being seen in
Marvel Super-Heroes
while the Thor strip seemed to start from a totally random point in the character's history. Possibly, this accounts for the lacklustre reception the two titles received.
Ad blocker interference detected!
Wikia is a free-to-use site that makes money from advertising. We have a modified experience for viewers using ad blockers

Wikia is not accessible if you've made further modifications. Remove the custom ad blocker rule(s) and the page will load as expected.