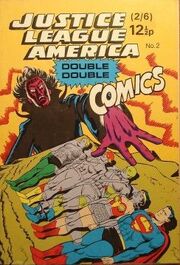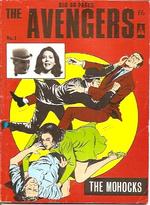 Active throughout the 1950s and 1960s, Thorpe & Porter were a distributor of American comics in the UK, and also published a number of original titles mostly using reprinted American material from various publishers, including the misadventures of
Laurel & Hardy
. They are also notable for having published
The Avengers
, a 68 page one-off title based on the cult TV show in 1966, as well as repackaging unsold copies of American titles as
Double Double Comics
. From 1959, they also published the British edition of
Mad Magazine
. They were eventually bought by the distribution arm of America's DC Comics, one of the companies which they had formerly handled UK distribution for.
Top Sellers
(publishers of
Super DC
,
Miracle Man
,
Psycho
and
Nightmare
) and Strato Comics were also oringinally imprints of Thorpe & Porter (Top Sellers was active well into the 1970s).
Ad blocker interference detected!
Wikia is a free-to-use site that makes money from advertising. We have a modified experience for viewers using ad blockers

Wikia is not accessible if you've made further modifications. Remove the custom ad blocker rule(s) and the page will load as expected.