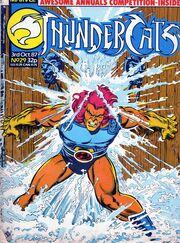 ThunderCats
was a
Marvel UK
title, initially published weekly from 21st March 1987, later becoming bi-weekly with issue #84. It became a monthly title from #95, but reverted to bi-weekly publication with #105 and remained bi-weekly until the final issue, #129, on 12th January 1991. From issues #79 to #83 the title was briefly changed to
ThunderCats and Galaxy Rangers
, as it absorbed another, failed title,
Adventures of the Galaxy Rangers
. A number of specials and annuals were also published. A mix of UK-originated material and American reprints,
ThunderCats
was based on the American animated TV series and toy line of the same name, about a group of feline humanoids called Thunderians from the planet Thundera, led by the heroic Lion-O, and their efforts to defend Third Earth from the demonic sorcerer Mumm-Ra and his evil mutants. The title also featured back-up strips starring Marvel's child heroes, Power Pack.
Ad blocker interference detected!
Wikia is a free-to-use site that makes money from advertising. We have a modified experience for viewers using ad blockers

Wikia is not accessible if you've made further modifications. Remove the custom ad blocker rule(s) and the page will load as expected.