Thunderclap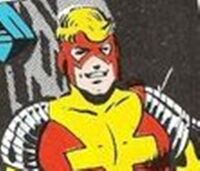 Real name
Stanley George Johnson
Current alias
Thunderclap
Base of operations
New York
Characteristics
Status
Origin
History
Thunderclap was a would-be superhero who had invented a pair of gloves which, when clapped together, created a sonic boom. He interfered in a robbery which Spider-Man was in the process of stopping and then took credit for it, much to Spidey's annoyance

Powers and abilities
Abilities
Highly intelligent.

Paraphernalia
Equipment
Gloves which create a sonic boom.

Notes
Thunderclap was created in a Marvel UK-originated story in Spider-Man #607 in 1984, but has since been incorporated into the American Marvel Comics universe, appearing in the Civil War limited series.

Trivia
Thunderclap was created in the same story as Assassin-8.
Links
Discover and Discuss
Ad blocker interference detected!
Wikia is a free-to-use site that makes money from advertising. We have a modified experience for viewers using ad blockers

Wikia is not accessible if you've made further modifications. Remove the custom ad blocker rule(s) and the page will load as expected.