Tilotny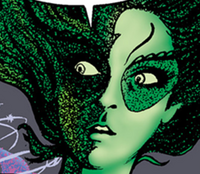 Characteristics
Origin
History
Tilotny was one of a race of ethereal beings called Bedlam Spirits who arrived in the physical world mistakenly believing they had created it! Tilotny and her fellow beings became mixed up in a conflict between Princess Leia Organa and a squad of Imperial Stormtroopers, killing them all without realizing what they were doing before going off to find new amusements. Their victims, including Leia, were restorred to life by the last to leave, Splendid Ap, but he accidentally transported the Imperial troops into the distant past, inadvertently saving Leia.

Powers and abilities
Powers
Seemingly omnipotent.
Abilities
Whatever she chose to be able to do.
Weaknesses
Not very perceptive.
Links
Discover and Discuss
Ad blocker interference detected!
Wikia is a free-to-use site that makes money from advertising. We have a modified experience for viewers using ad blockers

Wikia is not accessible if you've made further modifications. Remove the custom ad blocker rule(s) and the page will load as expected.