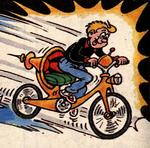 Tim Traveller was a character who had his own strip in the UK comic The Beano. He made his first appearance in issue 2862, dated 24th May 1997.
In the first strip, Tim looks for a bicycle in the town dump and finds an unusual one. By changing a dial at the front of the bike, it transports him to caveman times, and at this point he realises that the bike can travel through time.
Tim's strip was one of six in a poll conducted by the comic that year, the others being Crazy for Daisy, Camp Cosmos, Have-a-go Jo, Sydd and Trash Can Ally. In the end, Tim's strip was the joint winner of the poll with Crazy for Daisy.
Tim's strip was originally drawn by Vic Neill, up to his death in 2000. However, as strips were stockpiled, his stories continued to appear until the following year, after which Keith Reynolds took over. His story in the 2003 Beano Annual was illustrated by Richard Elson. The final strip appeared in Beano issue 3228, dated 29th May 2004, although he had not been a regular for about a year prior to that - over the previous 12 months, he made just five apperances in the comic.
Many Tim Traveller strips offered 'explanations' for historical events. For example, one strip explains how the Leaning Tower fell over during an earthquake, and Tim was only partly able to put it back into position. In other stories, Tim would end up wreaking such havoc in the past or future that he would have to return to the present in order to avoid further mayhem.
The strip was in some respects a modernised version of classic Beano story Jimmy and his Magic Patch, which also featured a main character who could travel through time, although it was a humour strip as opposed to an adventure story.
Ad blocker interference detected!
Wikia is a free-to-use site that makes money from advertising. We have a modified experience for viewers using ad blockers

Wikia is not accessible if you've made further modifications. Remove the custom ad blocker rule(s) and the page will load as expected.