Tod Radcliffe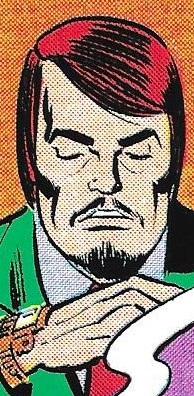 Aliases
Herr Radcliffe; Colonel Radcliffe
Base of operations
Britain
Characteristics
Status
Occupation
Intelligence agent
Origin
Origin
Normal human birth
History
Tod Radcliffe was the head of operations of the intelligence agency S.T.R.I.K.E. (Special Tactical Reserve for International Key Emergencies) working under Lance Hunter. Thanks to his position he was able to hold private meetings with the prime minister himself. Unfortunately, he was also a traitor working for the Red Skull, secretly communicating with him via a telephone in his wrist watch. Radcliffe bombed Braddock Manor, the home of Captain Britain, but was later killed by American agent Nick Fury using a poison dart fired from his cigar. In Radcliffe's case, passive smoking really did prove fatal.

Powers and abilities
Abilities
Espionage; operating a flying car.
Strength level
Reasonably fit human male.
Weaknesses
Money, and the promise of power.

Paraphernalia
Equipment
Smart watch; cigarette lighter bearing S.T.R.I.K.E. logo.
Transportation
Flying car; pneumatic shuttle; S.T.R.I.K.E. jet.

Notes
'Tod' is German for 'death'.

Trivia
In Radcliffe's first ever panel, when he picked Nick Fury up in his flying car, his chin was clean-shaven. By the time the pair had arrived at 10 Downing Street, Radcliffe had grown a beard.
Links
Discover and Discuss
Ad blocker interference detected!
Wikia is a free-to-use site that makes money from advertising. We have a modified experience for viewers using ad blockers

Wikia is not accessible if you've made further modifications. Remove the custom ad blocker rule(s) and the page will load as expected.