Top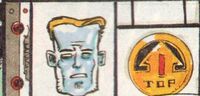 Affiliation
Genetic Infantry
Base of operations
Mobile
Characteristics
Unusual features
He's a digitised consciousness
Status
Occupation
Soldier; sentient headgear
Origin
Origin
Created by the Clavel Corporation
History
Top was a second-generation Genetic Infantryman created by the Clavel Corporation to fight a war on a world he knew as Nu Earth. Along with the rest of his regiment (except for Friday), he was apparently killed at Hill 392. His consciousness, and those of his comrades Lucky and Eightball, were preserved on biochips which were eventually retrieved from a ship belonging to the alien 'Scavenger of Souls' by Friday.
Top's biochip was placed in a slot in Friday's helmet, from which he dispensed advice. Along with the other biochips (by this time including the first-generation G.I. named Gunnar), Top was eventually captured by the religious order of zealots known as the Karvanu. His ultimate fate is unrecorded.

Paraphernalia
Equipment
Yes, he is.
Transportation
Carried about on Friday's head.
Weapons
Has a friend who is a gun.

Notes
Top was the 'Topkick' of Friday's unit before the massacre on Hill 392, and so technically outranked Friday.

Trivia
Top's position in the revived Rogue Trooper series was roughly analogous to that of Helm in the original series.
Links
Discover and Discuss
Ad blocker interference detected!
Wikia is a free-to-use site that makes money from advertising. We have a modified experience for viewers using ad blockers

Wikia is not accessible if you've made further modifications. Remove the custom ad blocker rule(s) and the page will load as expected.