Eddie Topps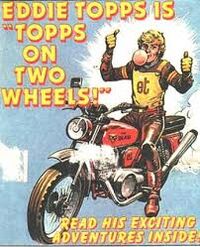 Current alias
Eddie Topps
Aliases
Masked Mister Unknown; Topps on Two Wheels
Characteristics
Status
Origin
Origin
Normal human birth
History
Eddie Topps was mechanic to American superstar stunt biker Wendell Wonder, but borrowed Wendell's bike (the Golden Streak) without permission and wrecked it while trying to jump a river. Fired by an understandably aggrieved Wendell, Eddie bought the wreck of the bike with the last of his savings, rebuilt it as The Beast, and embarked on a new career as a stunt rider himself.

Powers and abilities
Strength level
Human male who gets regular exercise.
Weaknesses
Colossal ego.

Paraphernalia
Transportation
The Beast (customised motorcycle).

Notes
Topps on Two Wheels began life in the pages of Speed, then transferred to Tiger, where it was drawn for much of its run by Mike Western.

Trivia
The strip's title was later changed to simply Topps.
Links
Discover and Discuss
Ad blocker interference detected!
Wikia is a free-to-use site that makes money from advertising. We have a modified experience for viewers using ad blockers

Wikia is not accessible if you've made further modifications. Remove the custom ad blocker rule(s) and the page will load as expected.