Tuck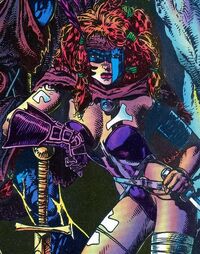 Characteristics
Origin
History
Tuck was an artificial human created in the future on the planet Lionheart, where human colonists had outlawed technology and warred perpetually against androids and cyborgs, creatures like herself. An outlaw and a member of the Merry Men, she met and eventually became the partner of their leader, the cyborg bounty hunter Death's Head II, leaving Lionheart with him to seek adventure across time and space.

Powers and abilities
Abilities
Tuck's reflexes are far faster than a normal human's.

Paraphernalia
Weapons
Good with a sword or a gun.
Links
Discover and Discuss
Ad blocker interference detected!
Wikia is a free-to-use site that makes money from advertising. We have a modified experience for viewers using ad blockers

Wikia is not accessible if you've made further modifications. Remove the custom ad blocker rule(s) and the page will load as expected.