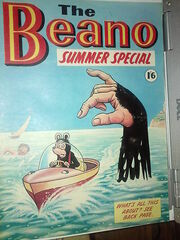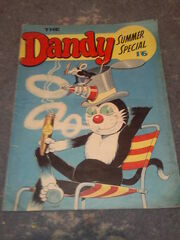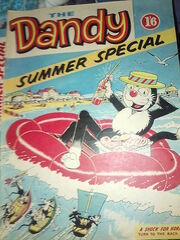 for all their quirky creativity during the 'glory years' of the 50s/60s decades, were printed on poor-quality newsprint up until around 1988, when glossier paper stock entered the fold. Presumably the use of lower-grade paper kept the costs down during the mass-production of the 1950s, when copies of
BEANO
hit the almighty 2 million-mark: however, readers were treated to glossier delights --at least within the
BEANO/DANDY
releases, in 1963, which saw the release of the first-ever
SUMMER SPECIAL,
basically assembled from existing summer-themed artwork from the two comic titles......this amalgamation of the two comics in a one-off 'special' was put together by future
SPARKY
editor Ian Chissolm.
Main article: Beano Summer Special
Main article: Dandy Summer Special
Ad blocker interference detected!
Wikia is a free-to-use site that makes money from advertising. We have a modified experience for viewers using ad blockers

Wikia is not accessible if you've made further modifications. Remove the custom ad blocker rule(s) and the page will load as expected.