Ultra-Man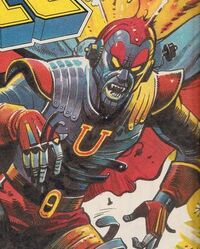 Characteristics
Origin
History
Ultra-Man at first appeared to be a sophisticated robot when he clashed with the superhero called the Avenger, but he was eventually revealed to be Professor Clive Rumpole, a scientific genius and expert in robotics who had created a powerful exo-skeleton which he wore when carrying out his criminal activities. The Avenger eventually short circuited Rumpole's suit, causing him to fall into a swimming pool and be fatally electrocuted.

Powers and abilities
Weaknesses
Not waterproof

Paraphernalia
Equipment
Robotic exo-skeleton

Notes
Ultra-Man appeared in the Avenger strip in Eagle #274-284 (its final installment).
Links
Discover and Discuss
Ad blocker interference detected!
Wikia is a free-to-use site that makes money from advertising. We have a modified experience for viewers using ad blockers

Wikia is not accessible if you've made further modifications. Remove the custom ad blocker rule(s) and the page will load as expected.