Lucy McGough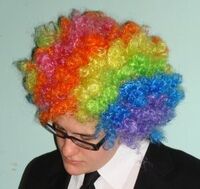 Aliases
Grammar Girl; Library Lass.
Affiliation
Pretty constant.
Relatives
Many and varied.
Base Of Operations
Bolton.
Characteristics
Weight
About 8 stone 8 lb.
Status
Occupation
Prescription processor.
Education
Durham University.
Origin
Origin
Ultimately, the Big Bang.
First appearance
January 26th, 1988.
Lucy was born in Cheshire, a flat, green county famous for its dairy farms. She now lives in Lancashire, where it rains a lot, and occasionally visits Suffolk, which has a pretty coastline. Lucy works in an office and doesn't do much in the evenings.

Powers and Abilities
Edit
Powers
Can spotted a misplaced apostrophe from thirty yards away.
Abilities
Touch typing and a moderately pleasant singing voice.
Strength level
Skinny human female.
Weaknesses
Over-analytical and not spontaneous enough (apparently).

Paraphernalia
Edit
Equipment
Laptop; Kindle; long black coat.
Transportation
Walking.
Weapons
Cutting remarks and withering rejoinders (mostly left unvoiced for fear of physical retaliation).

Lucy is allergic to nuts, has never been to Scotland and once appeared on University Challenge.
Discover and Discuss
Edit