Valinor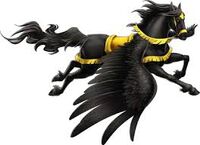 Base of operations
The sky
Characteristics
Status
Origin
History
The noble steed Valinor was a winged horse, the second such to be used by the Black Knight (Dane Whitman) after he parted company with his original horse, Aragorn. The Knight apparently acquired Valinor while inhabiting the body of his 12th century ancestor, Eobar Garrington, so it's pretty certain that Valinor originated in that time period and was given his magical wings by the Knight's patron, Merlyn.
Valinor was seriously injured by one of Mordred's 'hellravens' during the Knight's quest to find the tomb of King Arthur and defeat the forces of the dark lord Necromon, but he was still healthy enough to help his master fight a horde of trolls. Then he knew instinctively that he should eat the fruit growing on the tree that used to be Old Sarah Mumford, and it healed all his wounds.
When he was fighting goblins in an elfin village, Valinor's life was saved by Lupe, the pet wolf of Vortigen. Just as a goblin was about to stab Valinor, the wolf bit it hard on the wrist. It's nice to see solidarity among animal sidekicks.
The Black Knight and Valinor once won a fight with a dragon, Ashtoroth, thanks to Valinor's superior agility. Valinor then brought his master to his senses by kicking him when he was in danger of being corrupted by the dragon's power, transferred to him in the shape of a pearl.
At the end of the Black Knight's quest, Valinor rescued him and King Arthur from the castle of Camelot when it fell into an apparently bottomless abyss with Necromon inside it. It turned out that the one crucial element Necromon had needed all along was a flying horse. Without one, he was toast. Sadly, Valinor's part in saving both his master and the Once and Future King was never acknowledged beyond a brief pat on the nose.

Powers and abilities
Powers
Flight.
Abilities
Unarmed combat.
Strength level
Strong enough to charge straight through a barn door without opening it first.
Weaknesses
Chronically under-appreciated.

Paraphernalia
Equipment
Bridle, saddle, etc.
Transportation
Himself.
Weapons
His hooves.

Notes
Valinor can carry two fairly heavy men on his back at once.
Links
Discover and Discuss
Ad blocker interference detected!
Wikia is a free-to-use site that makes money from advertising. We have a modified experience for viewers using ad blockers

Wikia is not accessible if you've made further modifications. Remove the custom ad blocker rule(s) and the page will load as expected.