Velvet O'Neill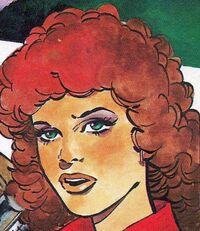 Characteristics
Status
Occupation
Communications specialist
Origin
History
Velvet O'Neill was a communications specialist working for the Special Planet Service before joining
Galactic Marshal Dan Dare's
space commando squad,
Dare's Eagles
. Initially appearing human, it was later revealed that O'Neill was half alien (Scouran) and would periodically alter her appearance. The formerly red haired and fair skinned O'Neill was later seen as a dark haired woman, and later a yellow eyed albino.
Powers and abilities
Powers
The Scouran Seven Year Cycle allows O'Neill to be physically renewed at intervals.
Abilities
She's very good at answering the phone.

Notes
O'Neill last appeared in Eagle #386 in August 1989.
Links
Discover and Discuss
Ad blocker interference detected!
Wikia is a free-to-use site that makes money from advertising. We have a modified experience for viewers using ad blockers

Wikia is not accessible if you've made further modifications. Remove the custom ad blocker rule(s) and the page will load as expected.