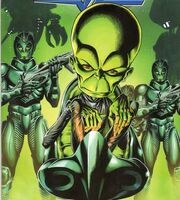 Virgin Comics was founded by Richard Branson and Deepak Chopra in 2006 and published several titles based on Indian mythology which were available both in the UK and the USA (though based in New York). They also revived
Dan Dare
in a limited series launched in 2007 and concluded in 2008. In August 2008, Branson pulled the company's funding and the line was cancelled. The company reformed as Liquid Comics, based in Los Angeles.
Ad blocker interference detected!
Wikia is a free-to-use site that makes money from advertising. We have a modified experience for viewers using ad blockers

Wikia is not accessible if you've made further modifications. Remove the custom ad blocker rule(s) and the page will load as expected.